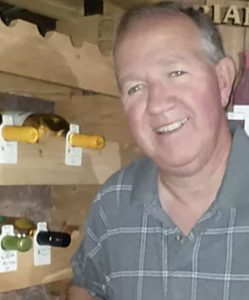 Brian has been with the NH Liquor Commission for five years where he is seen as an oenophile with extensive product, industry, and technical knowledge. With over twenty-five years of professional marketing and database experience within the distribution industry, Brian brings a unique perspective to the wine industry.
​Brian has helped winemakers and importers evaluate wine pre-released to the market. To that end, he has been asked many times to evaluate barrel samplings by various vintners.
Brian's own personal tastings have been compiled into 30 years. He has traveled extensively in the US to trade shows to learn about new and emerging regions and to wine regions of Europe, including Burgundy, Champagne, the Mosel and Rioja. You may have also heard him on talk radio discussing all things vino and answering everyone's burning wine queries.
When he is not sipping  a wine that is new to him, he is forging ahead towards earning membership in the Wine Century Club (almost done)! Brian is enjoying life with his wife and five children and volunteers with the local Boy Scouts of America. He looks forward to working with customers to bring new and interesting regional wines to NH.
Brian may be reached via email at brian@uncorkedne.com or via phone at (603) 860-8746.