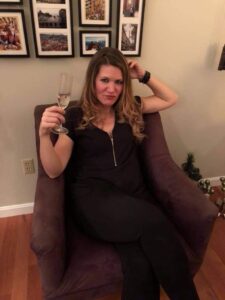 One fateful day, sometime around 2012, Brianne walked into a little wine shop in southern NH and signed up for a class on Wine 101.  That would lead to a class in advanced wines, and eventually to a Cellar Master Certification.  A diversion turned into a hobby, which transformed into a life-long love of wine.
She has been pouring and discussing wine at special events and tastings for 6 years.  The word vacation, for her has become synonymous with "exploring wine regions and meeting wine makers," from classic destinations like Champagne, to areas of growing popularity like Washington and Oregon, small but profound vineyards in Long Island and New England, and more remote regions like Alsace.
In her spare time Brianne enjoys teaching fitness classes and coaching people in healthy food and life choices.   She views wine, when consumed responsibly, as a contributing factor to good social and physical wellness, and as a valuable part of a healthy, balanced life.
She is currently studying for her Certified Specialist of Wine.
Brianne may be reached via email at brianne@uncorkedne.com or via phone at (603) 491-9862.