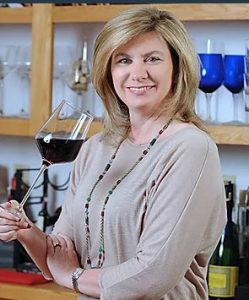 Dianne came up with the idea of Uncorked in early 2012 after she and her husband stumbled upon a winery during a 10th anniversary trip to Mystic, CT. They decided to stop in and have a glass of wine and  at first sip she was blown away!
Realizing that in NH we had several wineries, but nothing to speak of as far as wines from other New England states, the idea of Uncorked was born. She set out to learn all she could about regional products and what it would take to accomplish a goal of wider acceptance of Northeastern wines. Then, after a short while, she gave up her prestigious technology job at Fidelity Investments to focus on this goal.
Dianne has a passion for learning and comes from generations of wine lovers. She had been studying wine for several years and presently holds a certificate as a Cellar Master from Les Chevaliers du Grand Vin. She is currently studying wines from France, Italy and Spain and is working towards a Master of Wine. In the meanwhile, she travels the northeast in search of the best of the best wines, and across NH selling to retailers, restaurants and Inns.
In her spare time, Dianne enjoys spending time with her family, traveling to the many wineries of the northeast, self teaching and furthering her education, and busies herself with cooking and taking care of her homes in northern and southern NH.
Dianne may be reached via email at dianne@uncorkedne.com or via phone at (603) 533-0490.