Summer in New England is spectacular. Part of the charm is the undeterminable weather patterns.
What you end up sipping, just might be determined by a hot sunny beach day, a tranquil 70° day, or a rainy bookish afternoon. Add to the weather, your appetite, the food, your mood, the wine choice will not be one size fits all!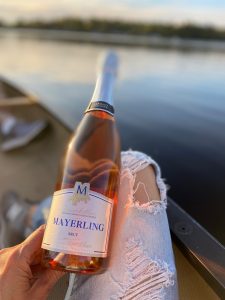 However, Rosé – the supposed bridge between white and red wines – could be considered the ultimate crowd-pleaser. Not on y scintillating in the glass, but this category offers dry, sophisticated choices that have vast flavorings; anywhere from a dry berryish Spanish Rioja rosé from Familia Chavarri , to an Australian sweet Moscato Rosé from Portia Valley Wines. Then there's Cave de Turckheim Mayerling Crémant d'Alsace Rosé, the best of all worlds; pink bubbles in a glass accentuate the lovely, refreshingly fruity flavors, finishing clean and dry.
One of our favorites, and one of the hardest wine grapes to grow, Gewurztraminer, is a pinkish grape that produces white wine. Summer months can mean spicy foods. To meet those peppery salsas and guacamole flavors, Jonathan Edward's produces one of the most delightfully clean, refreshingly crisp Gewurztraminers that finishes with a kick. This is a wine that will stand up to spicy fare and elongate the zappy flavors with a surprising peppery finish.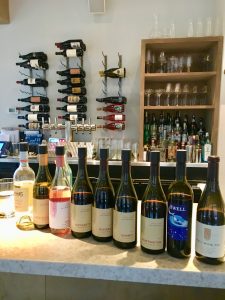 Gung-ho for a great steak wine? Westport Rivers Pinot Noir Rosé is deeply colored and has the richness of cherry-fruit flavors without feeling too heavy. Certainly, a California Pinot Noir would balance grilled meat especially if you opted for a wine from Pali Wine Co. whose specialty is Pinot Noir. Pali has different taste points from a very dry, lightly oaked PCH (Pacific Coast Highway) Rosé to the multi-flavored "Huntington" Pinot Noir layered with berry fruits, earthy mushroom components, and cinnamon-spice qualities. This wine will accompany you deep into the night – sit near a fire and savor.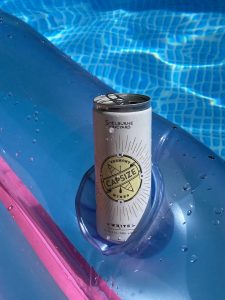 For those days when you're on the go, grab canned wine. Is the wine good? you ask. The answer is YES! This packaging makes it easy to bring on a boat, or along on a picnic without having to worry about glass breaking. Good choices that we carry are Reckless Red from Canalot Wines and Shelburne Vineyards Capsize  White & Rosé,
Summer has so many variables, and fortunately, there are countless wines to pair with the varied food choices, your taste, and, of course, the sometimes most determining factor, the weather. Stay cool my friends. CHEERS!