August! Summer's mid-mark! With social distancing, mask-wearing, and other tribulations in the news, this gives us reason to celebrate because we're getting through it! It's been one for the books, and that's something to clink glasses about! Another excuse to raise your glass.  Especially if your glass is full of bubbles!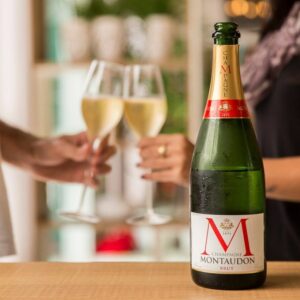 Bubbly wine adds a bit of zest to any moment. It's a simple lift in your glass. Ending a warm summer day with a lovely chilled glass of Champagne fills your sips with sparkles. We, of course, have a nice selection.
The Alliance Champagne group is a cooperative that started with 30 members and has grown to 700 participants "committed to preserving and perpetuating the ancestral tradition of excellence." We happily offer Jacquart, which is the leading Champagne produced by this group. As of 2010, family-owned and farmed Champagne Montaudon,joined the Alliance Champagne Group.
Uncorked has rolled out Champagne Montaudon as a test market wine this month! Known as the
Champagne with the Red M, Champagne Montaudon has had a distinctive presence in Reims, France, since 1891. Champagne Montaudon is a . Look for the Champagne with red M. It's $31.99 at the NH Liquor and Wine outlets.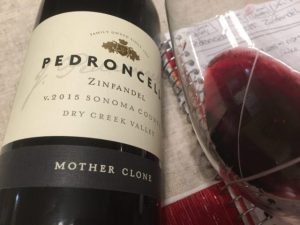 Days are still warm, but nights are cooling down. Grills are still lighting up, and red wines are being poured more often with those barbecued favorites. Located in Sonoma County's Dry Creek Valley since 1927, the Pedroncelli family has handed down their craft of vineyard farming and making wine for over nine decades. They've cultivated Zinfandel through the generations and know how to bring out the best qualities of this native California variety. The wine is berry-fruit forward with tones of chocolate and earthiness that have just enough lingering spice at the finish to have you going back to repeat the sensation! Zin lovers, this one should be on everyone's lips.
There's always a reason to raise your glass. There's nothing better than to toast to the newness of tomorrow!