A Little Piece of Long Island in the Granite State
Friday November 16th
The Colby Hill Inn sits on five acres of scenic property in Henniker, just a short drive outside of Concord NH.
In the intimate setting of their elegant country dining space, The Grazing Room, Chef Bruce Barnes uses locally and regionally sourced foods to create unique and brilliant dishes that pair perfectly with the featured wines in their monthly "Wines Of the World" dinner series.
In November we were pleased to join Bruce and his partner Jeff Brechbuhl to enjoy six spectacular dishes paired with Wines from Paumanok Vineyards of North Fork, Long Island.
This family owned and operated vineyard, has grown and developed with the wine presence on Long Island. Starting off as a project for family patriarch Charles Massoud, the vineyard has blossomed into one of the premier wine producers on Long Island, with wines that easily compete in complexity and grace with the best that California has to offer.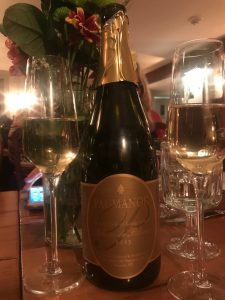 Dinner began with a twist: something slightly sweet and a dessert wine? Yes. Keeping with his appreciation for local food, or in this case local to the wines, Chef Barnes served a Hudson Valley Foie Gras on a walnut French toast, garnished with apples and a maple and sea salt drizzle. Paumanok Late Harvest Sauvignon Blanc, a rich, full-bodied, dessert wine, with aromatic candied fruit and a touch of tartness rounded out the first course.
Next, what goes better with Long Island Wine than Long Island Oysters? Cooked three ways: Mignottes, Rockerfeller, and Mornay, this plate offered something for everyone. Paired with Paumanok's Festival Chardonnay, a light, dry, clean white with hints of lemon and pineapple, and aged in stainless steel, this wine was a delightful partner to the fresh shellfish.
"I want you to taste the grape not the tree," winemaker Kareem Massoud quoted his father as having said to describe the beautiful balance of their Grand Vintage merlot. Big fruit, and a soft, light toast from aging 16 months in 30% new French, and the rest neutral, oaks. Five-spice Long Island Duckling with Miso glazed sweet potatoes and pomegranate pieces completed this course.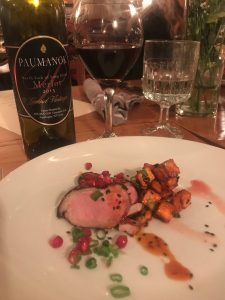 Up next, Spiced Lamb Kofta with a wheat berry salad, and harissa-infused yogurt. How better to complement this dish than with the Cabernet Franc. This wine embraces the very best that the grape has to offer. "We are not looking for New oak, we are not looking for aged oak," said Kareem, "We are looking for the oldest oak," when aging this wine to ensure the grape and the earth shine through. Quoting his father once again, "Winemaking," he said, "is less of an art and more of a partnership with mother nature. Unfortunately she is the senior partner," Paumanok has certainly done amazing things embracing the uncertainties of nature.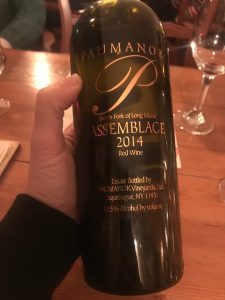 Slow-braised ox tail finished off the main courses, blue cheese polenta and cumin roasted carrots. Chef Barnes reminisced about being served this dish when he was younger because it was the affordable food. The same protein has become a gourmet offering, and certainly the way it was prepared that night, the chef's talents showcased this dish, in tandem with an amazing, complex, wine with good depth: The Paumanok Assemblage, a blend of Cabernet Sauvignon, Merlot, Cabernet Franc, and Petit Verdot.
The night finished off with the Blanc de Blanc, 100% sparkling Chardonnay, made in the traditional champagne method; light, dry, crisp, paired with Lemon curd on a Ginger cookie for a sweet finish.
Stay tuned for news of out next wine dinner coming in the new year!