Making the Most of a Seasonal Favorite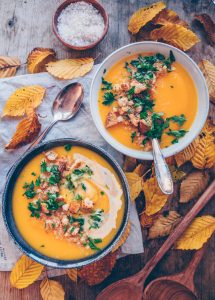 It happens every year. The hysteria seems to begin earlier and earlier with each passing autumn. The lovers begin their social media posts as early as August first. Hot on their heels are protesters, haters, doubters, and the indifferent. Marketing agencies and product development specialists have already been hard at work contriving interesting and sometimes questionable new applications for the product.
I am, of course, referring to the phenomenon that is pumpkin spice.
By this time of the season (mid November) most of the craziness has subsided and we are left to enjoy the traditional specialty foods that make the most of those fresh seasonal flavors.
Now the important question: What kind of Wine do you drink with Pumpkin Spice?
The pulp of the pumpkin is so versatile, it's used to create a variety of foods that range from the sweet to the savory. The PH of pumpkin runs between 5 and 5.5 so higher acid wines work well. You want a wine with some body. Big fruit and spice complement the pumpkin and spice combo.
With that in mind, here are three wines from three different parts of the world that will balance and enhance your pumpkin spice experience.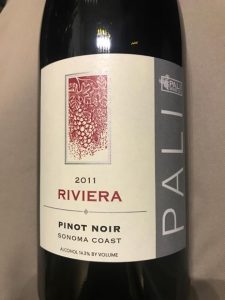 Pali Wines Riviera Pinot Noir
100% Pinot, sourced 75% from their Sonoma vineyard and 25% from their vineyard in the Russian River Valley. This wine has rich blackberry and some good toast on the nose but not too much (from aging 18 months in 30% new French oak), filled out by cinnamon, and mushroom.
A perfect accompaniment to a savory pumpkin spice ravioli, or a hearty pumpkin and clove purée.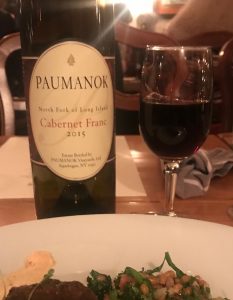 Paumanok Vineyards Cabernet Franc
The cooler climes of the Long Island wine region produce some beautiful Cab francs. Very traditional, strong spiciness, green pepper on the nose, blackberry, cassis, and some lovely herbs. This wine would pair well with pumpkin and mushroom risotto or a curry pumpkin soup.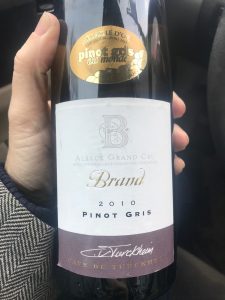 Cave de Turckheim Brand Pinot Gris Grand Cru
If pumpkin pie, or a savory pumpkin tart are your preference then this Pinot Gris from Alsace will thrill you.
A wine with medium body and a smooth finish. Peach and honey in the wine and a high acid content complement the light sweetness but full body texture of the pie, and really enhance the savory herbs and aromas in the tart.
Cheers! And Happy Grown-Up Pumpkin Spicing.