A Palatable Sunset – Rosé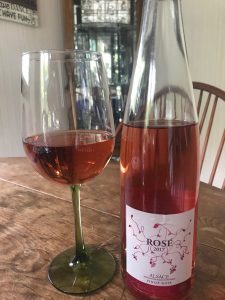 In the Northeast, summer's warmth begins to melt away in August. The days are clear, bright and conducive to all things summer, but the nights are an afore-mention of autumn. The weather influences how we spend our time, what we will eat and drink. White wine drinkers may opt to go deeper into rich whites steeped in oak, while red wine drinkers might lean more towards richer reds. But then there is rosé…
Rosé, as a category, offers an array of choices from bone-dry to sweet. To help understand this category it helps to realize that from a red grape comes white juice. When you allow the white juice to sit on the red grape skins it obtains a pinkish hue or a blush. In the late 1970s the term "blush wines" was coined, mostly for marketing purposes. Evolving wine drinkers of the late 20th century equated rosés with the previously popular, very sweet Portuguese wines, Mateus and Lancers. Beginning imbibers were becoming savvy and the palatable fruity rosés aka blush wines made the off-dry White Zinfandel popular.
In the last decade or so, blush wines have faded from vogue. Yet in the last five years, there has been a resurgence of interest in rosés. Particularly interesting are sparkling rosés. The boutique house, Champagne Montaudon produces a Grande Rosé which exudes subtle dark cherry fruit and the spiciness attributed to Pinot Noir.
Delicious sparklers identified as Crémant relates to the small size of the bubble, or bead that rolls like foam across your tongue. Crémant translates as "creamy" which in the case of Mayerling Crémant d'Alsace Rosé is to be experienced for this reason. Produced from 100% Pinot Noir it's a lovely soft salmon colored sparkler that combines the creamy texture with a beautiful raspberry fruit flavor and dry finish.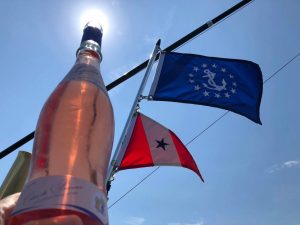 Provence has always produced delicious rosés that pair nicely with Mediterranean fare. The sixteenth-century Château la Clapier Cuvée Serpolet offers a quaffable strawberry-scented off-dry flavored choice or the Chateau's Cru-Classé La Violette that captures both strawberries and citrus for a drier, more sophisticated experience.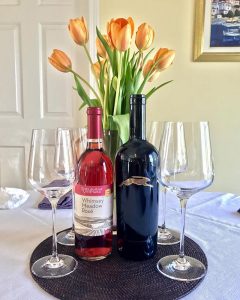 On our home turf, during August, also known as National Rosé Month, enjoy Vermont's award-winning Shelburne Vineyards Whimsey Meadow Rosé. The wine is made predominantly from Marquette grapes and blended with other local cold climate varietals to create a light, off-dry, delicately watermelon-colored and flavored refreshing wine.  From our northern neighbor, Canada's The Hare Wine Company Jack Rabbit Rosé is produced from Cabernet Sauvignon and Riesling, which is a refreshing fruit-forward taste sensation.
Most any time, and particularly at summer's end, capture a rosé sunset in your glass to toast the end of summer or any occasion!