Tour and Sample New England Wineries
New England has put itself on the world's wine map with an interesting array of wines made from varied fruits, some native, some vitis vinifera – aka European Grape Varieties. America's East Coast, specifically New England is the melting pot between Europe and America and it's similarly placed on the same latitude as many of Europe's wine-producing regions. The North East is rife with diversity; each year there is a resplendent transition between each of the four seasons. The weather's cadence creates magical effects from the salty ocean-side breezes, across pastures, vineyards and into the mountains.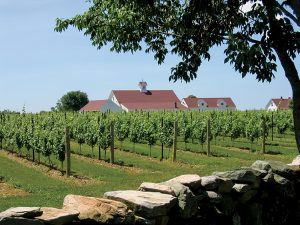 Yankee farmers, turned winemakers, embrace the challenge of the terroir to create their expression of what their land allows. Starting at New England's gateway state of Connecticut, wineries are producing interesting wines in the Litchfield Hills of Connecticut. Sunset Meadows Vineyards Chardonnay has snagged an award as a top Chardonnay.
Taste the difference of what a little salt air might add to a wine by traveling down to beautiful Jonathan Edwards Vineyards only nine miles from the Long Island Sound. Across the sound is Long Island's North Fork, not necessarily New England, yet another tasting mecca destination. The Lenz Winery started the Long Island grape growing trend in the late '70s and lead the way to establish a thriving wine region.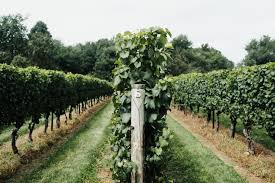 Sampling wines throughout northern Rhode Island, Massachusetts, Vermont, New Hampshire, and Maine can be done by car, or by embarking on a personal journey across a wine-rack. Massachusetts' Westport Rivers Winery produces a bubbly, made in the French tradition of methode champenoise. This sparkling treat has been served at the White House several times and has won competitions against notables like Dom Perignon in blind tastings. New ventures are sprouting up as in the town of Rowley, north of Boston, at the Mill River Winery. Not only do they produce wines with a nod back to the early settlers, but they are trying their hand at fermented cider as well.
Along the shores of Maine known for its blueberries, are the picturesque Breakwater Vineyards, just south of Rockport and, more inland, the fun Savage Oakes Vineyards that both produce blueberry wines. The former has embarked on mead, "Bees Knees" in addition to creating wines from Pinot Noir, Chardonnay, and Riesling. The latter adds a rich "Nor' Easter" Port to round off the taste sensations.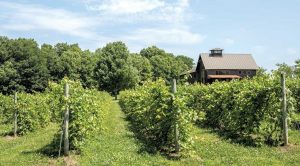 Moving across Northern New Hampshire to Shelburne Vineyards in Northern Vermont where hearty grapes, native to this part of the region, thrive. Grapes that withstand the hard, cold winters are LaCrescent, Marquette, Louise Swenson. Some of the wines produced here have long contact with the skins to assure for richly flavored wines.
New Englanders love their way of life and the fruits of their labor. New England Uncorked makes sure that these wines are accessible throughout New Hampshire and Maine. Check our website, http://www.newenglanduncorked.com/ find out where our wines are available.