The harvest is the pinnacle of months and years of the farmer's labor.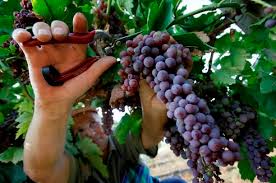 It's the recognition that the tender care of the vines has been appropriate despite what the weather has imposed. A first harvest happens after the vine has matured for three years. Three years of nursing a vineyard before there is any wine!
When to harvest is determined by the amount of natural sugar in the grape.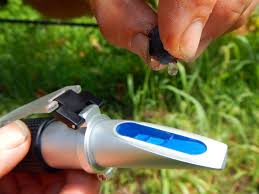 The sugar is measured in units called "Brix" using an element called a refractometer. A drop of the fruit juice is placed on the instrument, light passes through it and the sugar molecules refract the light which determines the level of sugar. At this point, the grapes are tended very closely to be picked at the proper ripeness. Generally, white grapes are harvested earlier than red. It's laborious work and must be done in a timely fashion so that the delicate balance of sugar does not go out of measure.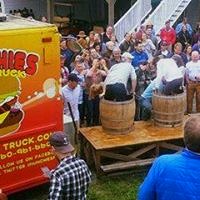 Gathering crops is definitely a time of celebrating the fruit of the growing season!
The end of September is typically when the harvest is celebrated. Every year, in Stonington CT, Jonathan Edwards Winery holds a Harvest Festival. This is a two-day gathering replete with bands, food trucks, pumpkin painting and tastings of past vintages. The superb setting is atop a hillside on land that has seen 200 years of farming. Now Chardonnay is the big harvest. Here's the link to the October 5-6 event, https://www.jedwardswinery.com/events-2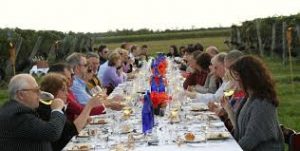 Another destination at the tip of Long Island is Lenz Winery. It's "All About Harvest" September 28 on what is called the Lenz Crush Pad is a chance to interact with the Vineyard Manager to learn the vines indicators for when the grapes are ready to be picked. The Winemaker will then demonstrate the press and you will sample wine through its different stages of juice to fermented juice – wine. This is topped off by a wine dinner to experience the Lenz wines. This winery just won double gold for its Pinot Gris and their Cabernet Sauvignon was vote best in NY! https://lenzwine.com/all-about-harvest/
Interestingly, there's another harvest that takes place in Canada in January. It's a winter festival to celebrate the harvest and production of Icewine. This is a delicacy dependent on grapes that are harvested at the time they've received the kiss of frost.
The grapes are hand-picked, in a frozen state, and gently pressed to collect the juice that ferments into a type of ambrosia that has a rich, apricot-like fruit flavor, low alcohol and a viscous sweetness that lasts long enough to savor and compel you to go back for a second sip. This harvest is a big deal, and Pillitteri Estates Winery is known for its production of Vidal Icewine. http://www.niagarawinefestival.com/winery/pillitteri-estates-winery