A Tale of Two Vineyards : Four Reasons You Should Be Drinking Rosé All Year Long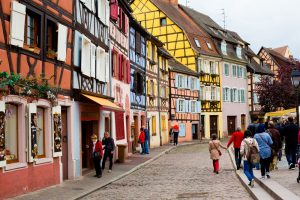 Just West of Colmar, on the northern French and German border lies the walled Medieval Village of Turckheim. Dark timber-framed buildings with plaster walls and pastel colored facades line the narrow roads leading out of the old city and west toward the eastern slopes of the Voges Mountains. In the sheltered area of Alsace, since as early as the 7th century winemakers have practiced their craft. The southeast exposure allows for maximum sunshine, and protects the grapes from the cold north winds. The sand and silty soils yield the world famous single varietal wines for which Alsace is infamous. While Gewerztraminer and Pinot Blanc probably come to mind immediately, the co-op of owner/growers in Cave de Turckheim make the most of the only red-skinned grape grown in Alsace, Pinot Noir, to create two beautiful 100% varietal rosé wines, available in New England.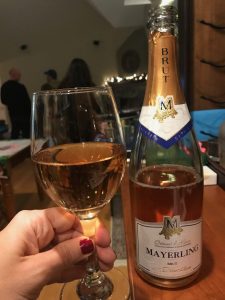 Cremant d'Alsace brut rosé is a sparkling wine made using the traditional champagne method. Delivering clean raspberries, red fruit and a light lees influence on the pallet, this cremant is fresh and dry with a solid 12% alcohol. Sparkling wines pair with a very diverse variety of foods. The Pinot Noir grape gives this wine good body, more depth, and greater acidity than white sparkling wines. A perfect pairing with: Cold dishes, lightly sweetened desserts, Sardines, sushi, Chicken, Salmon, peppery greens, and spicy Asian, Spanish, and Indian foods.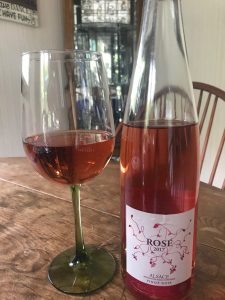 Cave de Turckheim also produces a beautiful rosé of pinot noir (non-sparkling). This 100% varietal wine is medium bodied, crisp, fresh; raspberries and cherry on the nose. This is a bigger bang wine. I call it the "red wine drinkers' rosé." This wine brings out the most in grilled meats, salads, oily fish (salmon, mackerel, sardines, anchovy, tuna), sausage, shrimp, and medium to rare steak.

Traveling south, to a land where the mountains meet the sea, under the warm sunshine of Provence, in the area of Hyères, the Valley of the Borrels stretches across the farm lands and vineyards that include the 18th century Chateau de la Clapiere, where rosé wines are always enjoyed year round. The unique geography creates a micro-climate that makes these wines something special. The Chateau produces primarily rosé wines. Floral, round, soft, and fruity, these wines feature the classic Provencal blend of Grenache, Syrah, and Carignan, and two of these blends are available in New England.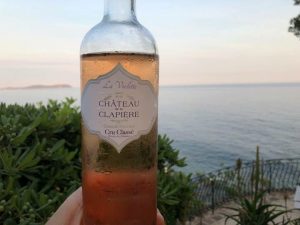 In 1955, 32 Acres of the estate were granted Grand Cru status. Cuvee de la Violette is named for the Violet flowers that a young Victoria Constant brought to Queen Victoria during her stay in Hyeres in 1892. That young girl later became custodian of the Chateau after her daughter married the owner of the Vineyard. This wine of her namesake is the Chateau's premier wine, elegant, soft floral notes, beautifully balanced, violet on the nose, pale salmon in color. On the pallet, very light strawberry and citrus. 50% Grenache, 36% Cinsault, 14% Syrah. Every step of this wine takes place at the coldest temperatures practical to really bring out the delicacy and perfection of these grapes. This wine has such a presence and subtle pallet that it can be a stand alone wine; easy to drink staying-in by the fireplace in winter. Light fish dishes, grilled vegetables, and fresh food bring out the best in this wine.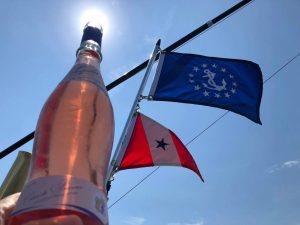 Made from exactly the same grape blend as the Violette, the Cuvee Serpolet pays homage to it's grand cru partner, but the grapes come from other vineyards in the Chateau holdings. At 13.5% alcohol it can brighten your summer or keep you warm on a cold winter's day. Pairs with classic Mediterranean fare: a variety of fish, green and root vegetables, sun dried tomatoes, appetizers, soups and cold foods.
Any of these wines would be a beautiful balance to the variety of dishes in your traditional New England holiday meals.
Rosés are amazing wines. They are versatile, tasty, generally inexpensive, and always bad-ass. With their high acidity and light to medium body, good complexity, their availability in abundance, and the range of foods they compliment, there is every reason to drink and enjoy these beautiful wines year round in New England.