Seasons Change… So Why Not Switch Up Your Wine?
There is nothing like fall in New England. The leaves explode in colored tones from rust to orange hues, yellow, magenta and green. The air is crisp and the sweaters come out. Football is on tv and the days get shorter. You have spent the hot summer sipping your favorite wines to quench your thirst, to marry up with your favorite barbecue or delicious seafood dishes. Like the sweaters you pull from the drawer, now is the time to unpack some of your seasonal favorites.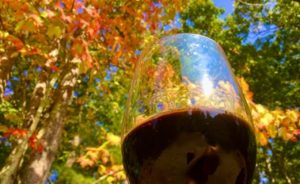 That heavy Cab that was too hot for the summer heat now feels as good as flannel pajamas on a crisp night. Why not try Miro Cellars Cabernet Sauvignon. It has rich coffee notes that hint of mint. If you want to warm up with a Malbec from Five O Clock Somewhere Project, its inky deep hued purple monster in the glass is a great sipper but will also tame a juicy rib-eye steak.
Life is too short to be rigid about your wine selection, as the seasons change why not switch things up a bit. The raking of leaves can be more fun if you reward yourself with nice glass. The outdoor air will chill your wine and the bugs are no longer diving in. Dessert wines don't have to be just for dessert, a nice icewine after fall yard clean-up is a great way to unwind. With Pillitteri Vidal Icewine you will get that rich thick peach and baking spice flavor that crawls slowly down the side of the glass. You don't have to wait for the first frost of the year to enjoy this fabulous wine.
The beauty of the fall is further enhanced by the fluctuations in weather. It can be as hot as 80° on some days in an Indian summer or as low as freezing. In New England this can take place in a single day. So, you don't have to park your summer wines and you can embrace the fall at the same time. It is a time of transition, but why not try and change with it. The Cave de Turckheim Alsace Pinot blanc is a great fall white that harkens back to fresh apples and pear on the nose and will pair well with turkey but will also stand up to the heat of Thai food or a hot chili for the socially distanced tailgate. Speaking of chili why not pair it with a Spanish red;  Ribera Del Duero from Bodgeas Imperiales, Abadia San Quirce, its pepper and rich raison fruit will take on the heat of a spicy fall dish.
Fall is a time for change, embrace it, celebrate it with family and friends with great wine when you can…. all too soon the leaves are gone!