Raising Our Glass to the Future!
Happy February Wine lovers!
After a short hiatus the Uncorked Newsletter has returned and we have a lot to share! We are excited to present with you our monthly featured wines and upcoming wine events, as well as introduce you to some amazing businesses that support Uncorked in our mission to bring you unique and delicious wines from around the world.
February Wine of the Month:
Do you want to know a Secret?   
There is something rich, and full, crisp and refreshing, luxurious and internationally coveted. And it can be yours.
The Secret? Is The Secret, Reserva Brut Nature by Chapillon Wines.
https://chapillon.com/chapillonsecret/
Made in the traditional Champagne method, this luxurious sparkling wine is the perfect homage to its creator. Christophe Chapillon moved from France's Loire Valley to the Aragon region of Spain in 1986. In 2006 he teamed up with Cesar Langa to create Chapillon Wines. One of their secret weapons is The Secret. Exported around the world from The United States to Spain, China, Brazil, and Japan, it's a luxury on par with Champagne, for half the price.
The Secret is the quintessential example of Christophe's passion for making Spanish wine with a French influence. This Wine falls under the Cava DO. While Cava can be made from a variety of grapes, it's most commonly created using Xarel-lo, Macabeo, or Parellada. Embracing both the French and Spanish sparkling traditions, The Secret is 75% Chardonnay and 25% Macabeo. The base wine spends 20 months in 30% new French Oak, before it is bottled and the liquer de tirage is added to begin the secondary fermentation that will produce the velvety tiny bubbles. Thereafter, the wine spends 16 months in the bottle before being released for your drinking pleasure.
James Suckling gave The Secret a spectacular 90 point rating, describing the wine as "crisp citrus and apple flavors and dried pears too. Dry and energetic finish."
A perfect pair for white proteins, shellfish, or just as an aperatif, The Secret is available in select NH State Liquor and Wine Outlet locations, and a few boutique shops around the State. For more info on this or any of our wines, visit out website and fill out the contact form, or contact any member of out team.
Customer Spotlight
At Uncorked we are endlessly grateful to clients and customers without whom we wouldn't be here! We are happy to recognize our February Client spotlight.
Vine32 Graze + Wine Bar
In March of 2022 Owners Leah and Tom Bellmore realized their dream when Vine 32 opened their doors to a new kind of wine experience for residents of the Granite State. As the name implies they do serve wine, 32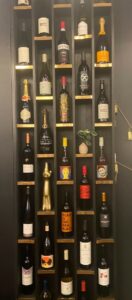 varieties to be exact. It's the way the wine is served, along with the environment that makes Vine 32 special.

The couple was on vacation when they had a wine shop experience they knew needed to be brought to New Hampshire. A climate controlled display case runs the entire length of the wall to your right after you enter the doors of the establishment. Glass fronts allow a view of the bottles of the 32 wines "on tap". Each guest is given a special card on arrival that, when inserted into the wine wall, allows that guest to select any wine of their choice from the wall, in the pour size they desire. From 1 ounce to Six ounces, you control your tasting experience. Maybe there's one wine you love and you come back for a full glass. Perhaps you want to try a handful of wines but not at the glass-of-wine price: the 1 ounce pour is your new best friend.

The chic relaxed atmosphere allows guests to chat with friends, sip their wine, and enjoy small plates. The kitchen serves up specialty flat breads and gorgeous custom charcuterie boards.

The culture of the bar is one of wine experience. You don't have to know anything about wine, just have a desire to try new things, and trust in what you love.

The space is available for private parties and tastings, and also hosts events where you can participate in a group activity while sipping your wine. Events include tarot card night, wreath making, winemaker meet and greets, classes on building your own charcuterie board, and Barre and Yoga experiences.

Next time you're looking for something new, stop in to have a glass, and tell them Uncorked sent you!
What's in the glass?
Every month we ask a member of our team to recommend a wine they are loving now.
For February Brianne Chose the Cave du Roi Dagobert Saint Eloi Cremant d'Alsace.
"For me, every day is a good day for bubbles. This lovely Cremant, made in the traditional champagne method, blends Pinot Blanc, Auxerrois, and Pinot Gris grapes to create a perfect balance of refreshing citrus, soft melon, and just a hint of bread. Produced in Traenheim, just outside of Strasbourg France, this wine has all of the brightness and balance you expect from Alsace. I could drink this every day. "
The Dagobert Cremant is available, along with several of their still wines, at select NH Liquor and Wine outlet locations.

UPCOMING EVENTS:
Tomas Archival of Nomad Wines will be presenting a Sip and Savor event at Vine 32 in Bedford NH on Wednesday February 1st at 6:30pm. Learn about the unique wines and terroirs of Argentina, and meet the man who dreamed these beautiful wines into being. Tickets available by calling or emailing the venue.
Heidi Wettach of Ahtel Wines will be pouring some unique and brilliant wines from the Czech republic at The Fermanent on Dover Feb 3
French Wine Dinner at the Tavern at Canterbury Woods Saturday February 11th. Canterbury Head Chef Chris Layton will dazzle us with his culinary talent pairing classical French foods with some of our favorite selections from the French wine portfolio, while Brianne with Uncorked guides guest through the story of the wines. Menu and Tickets are available through their website.
Happy Valentine's day! Look for our post on special Valentines day wine on Instagram in the days leading up to the 14th!
Wine Dinner at the Thompson Inn in Durham NH, Saturday February 18th. Join us at the Thompson Inn as they serve up a delicious dinner, paired with wines from the multi- generation Trentadue Winery in Sonoma, CA. The story of the wine will be presented by special guest Van Potts of Preston-Layne and Partners. Call the Inn for more details.
Javier Bayona with Spain's Familia Chavarri Wines will be visiting NH!
 If you love Tempranilllo and Albarino you don't want to miss these events with Javier:
Wednesday February 22, 4-7 pm, Winenot Boutique in Nashua will host a meet and greet with Javier, featuring a special tasting of his wines, and an insider perspective on what it means to be part of the Familia Chavarri and Bogedas Larchago wine family. Tickets available though Winenot's website, via Eventbrite.
Friday February 24 The Grazing Room at the Colby Hill Inn in Henniker will host a meet and greet event with Javier. Chavarri wines will be tasted, light tapas served, and guest will have the opportunity to chat learn and ask question in a relaxed environment. Reservations can be made by calling the Inn or the Grazing Room restaurant.
Uncorked Team Member and Sommelier Gary Murffit will be tasting wines as Trends Gift Gallery and Wine Loft in Exeter Gary at Trends on Friday the 24th.