The Weather Outside is Frightful….
You know the rest but it doesn't have to be frightful. With the cold and the darkness can come some solace, some comfort and joy. It is all a matter of perspective. You can be a glass half full or a glass half empty kind of person but the key is to put something in the glass. When the arctic winds blow from the Canadian north, why no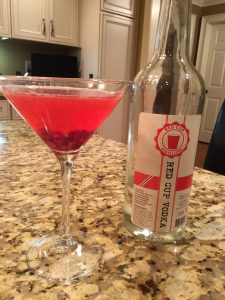 t reach for some Red Cup Vodka from Alberta. It is amazingly smooth, clean and blends well with any holiday drink, zoom cocktail or just sip it on ice. You can keep it in the freezer for the right moment or put it outside somewhere safe and accessible like a snowbank. You can chill it to an ice-cold temperature serve it straight up no ice or whatever way you do you. It is on sale for a limited time only at your NH Outlet stores this month. Check out our festive recipe for "Seedy Santa" using the Red Cup 
Albertan Vodka and our Turmeon Vermouth. Turmeon Vermouth is like cherry cotton candy. It too is a great sipper on its own or a great enhancer with a mixer. It is a garnacha (Grenache) based wine that
comes from Calatayud, Spain is macerated with floral herbs and fruits and has no bitter aftertaste. Check out our recipes using Turmeon here. You can find Turmeon Vermouth at WineNot Boutique in Nashua.
You may not be able to get together with friends this holiday season but why not do a zoom call with a glass of Friends Wine from Pedroncelli Winery in Geyserville, CA? The Friends Red is a delicious crowd pleaser when we can have crowds or simply sitting with a smaller crew over the holidays. It is a blend of Zinfandel, Merlot and Syrah. If you are more of a white wine drinker, Friends White is a delicate blend of Sauvignon Blanc and Gewürztraminer. It pairs well with many lighter dishes even hot and spicy fare over the holidays.
The new year is coming and we all want to raise a glass to new beginnings, to put this year behind us and look forward to a time when we can enjoy togetherness, celebrations, birthdays, anniversaries in style again. We suggest a glass of Chateau Montaudon Brut Champagne. It is a fantastic tasting bubbly with notes of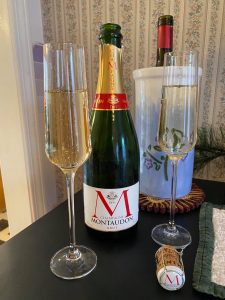 green apple and lime with luscious sensations in your mouth. The Brut is blend of Pinot Noir, Petit Meunier and Chardonnay. If Brut Rose Champagne is more your style Chateau Montaudon Brut Rose is made from 50% Pinot Noir, Petit Meunier, Chardonnay and a blend of prestige wines to give it an opulent nose and notes of peach, orange and wild berries. These wines will both help you turn the page on this year and look forward to the new.
Happy Holidays from the Uncorked Team to you and your families!
Stay Safe!